If this hasn't been the longest, shortest, weirdest, most trying year we have ever been through, I don't know WHAT IS! This year has been wracked with heartbreak, frustrations and eye-opening awareness but I also think it has given us a chance to slow down and really appreciate what we have and who we have.
As I was thinking back on the year while writing my annual letter to put in my Christmas cards, I became curious if there were any interesting inventions that have come out of this slightly unprecedented time. And of course there are, and some of these are pretty interesting, while some of them are absolutely ridiculous and would only work in the times of COVID. Either way, I hope this list brings you a bit of joy as we end this crazy year.
Interesting inventions by way of COVID
Online grocery shopping/grocery pickup has boomed over the nine months since COVD took hold. Not only does it make the tedious task a bit more enjoyable, but it has also is said to have helped taper the spread of the disease. But once states and countries started opening back up, people took to the streets and started going back into stores. To try and keep stores from getting crowded, the budget supermarket Lidl in Ireland has created a chatbot through WhatsApp in which patrons can message to find out when the quietest time to visit is.
Of course with things reopening, the itch to get out from behind the four walls that make up your house gets to be too much. You grab your purse, your keys, and now your new accessory, your mask. The mask is not a new invention as doctor offices and hospitals have always used them, but now that we civilians are asked to wear them, we have guzzied them up. Companies from Old Navy to Disney to Vera Bradley have started mask lines to help make the normal hospital masks more fashionable and comfortable. Some have even created masks with our deaf and hard of hearing community in mind.
But the wackiest face mask I found is the '3D-Printed' face ID mask. Danelle Baskin (no idea if she is related to Carole) is a San Francisco-based designed who pitched the idea of a 3D-Printed' face ID mask. Want to know what it's for? Of course, you do. It is so you can easily unlock your phone without taking your mask off. Yes, people, there was actual serious talk about producing this product. I'm not sure if any actually got printed but if I see one on the street it will definitely make me stop quickly in my tracks!
So after you have completed your grocery shopping trip, if you are like me, you don't want to cook. A couple of restaurants have taken social distancing to a fun new level.  A popular café in Germany called Cafe & Konditorei Rothe used fun pool noodle hats to help their patrons who sat outside.
This restaurant in Maryland intends to use bumper tables to keep customers six feet apart once it begins to take seated diners. pic.twitter.com/ReCLbzcowF

— CBS News (@CBSNews) May 18, 2020
Lastly, we have been bombarded with all sorts of new graphics and signs about keeping a six-foot distance, 'walk this way', 'masks required', etc. And once companies start opening the doors up for employees to start working from the offices again, the offices will probably want to add these signs to the walls and floors. The global floor covering company Milliken has created carpet tiles designed to be eye-catching and to help maintain social distancing.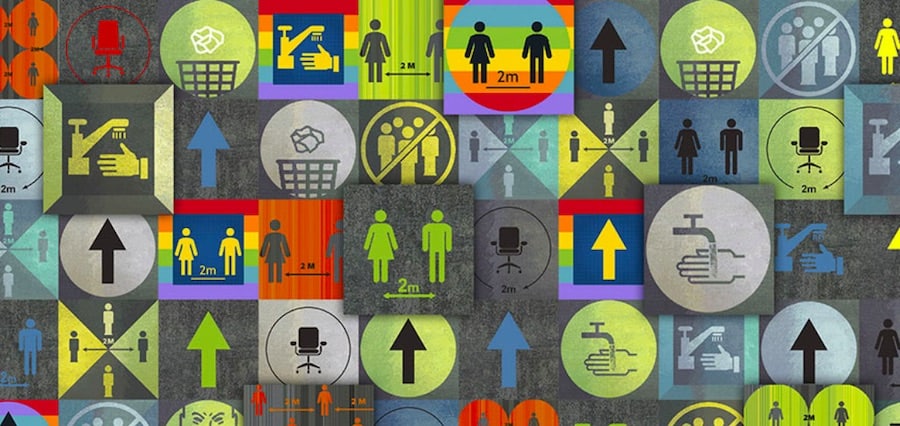 As we continue to navigate through what is our new normal, I can only imagine that the inventions and innovations that will come will continue to be fun, interesting, wacky, and even practical!
What interesting inventions have you seen come as a result of the pandemic? Let us know in the comments below!